---
Upholstery Courses
---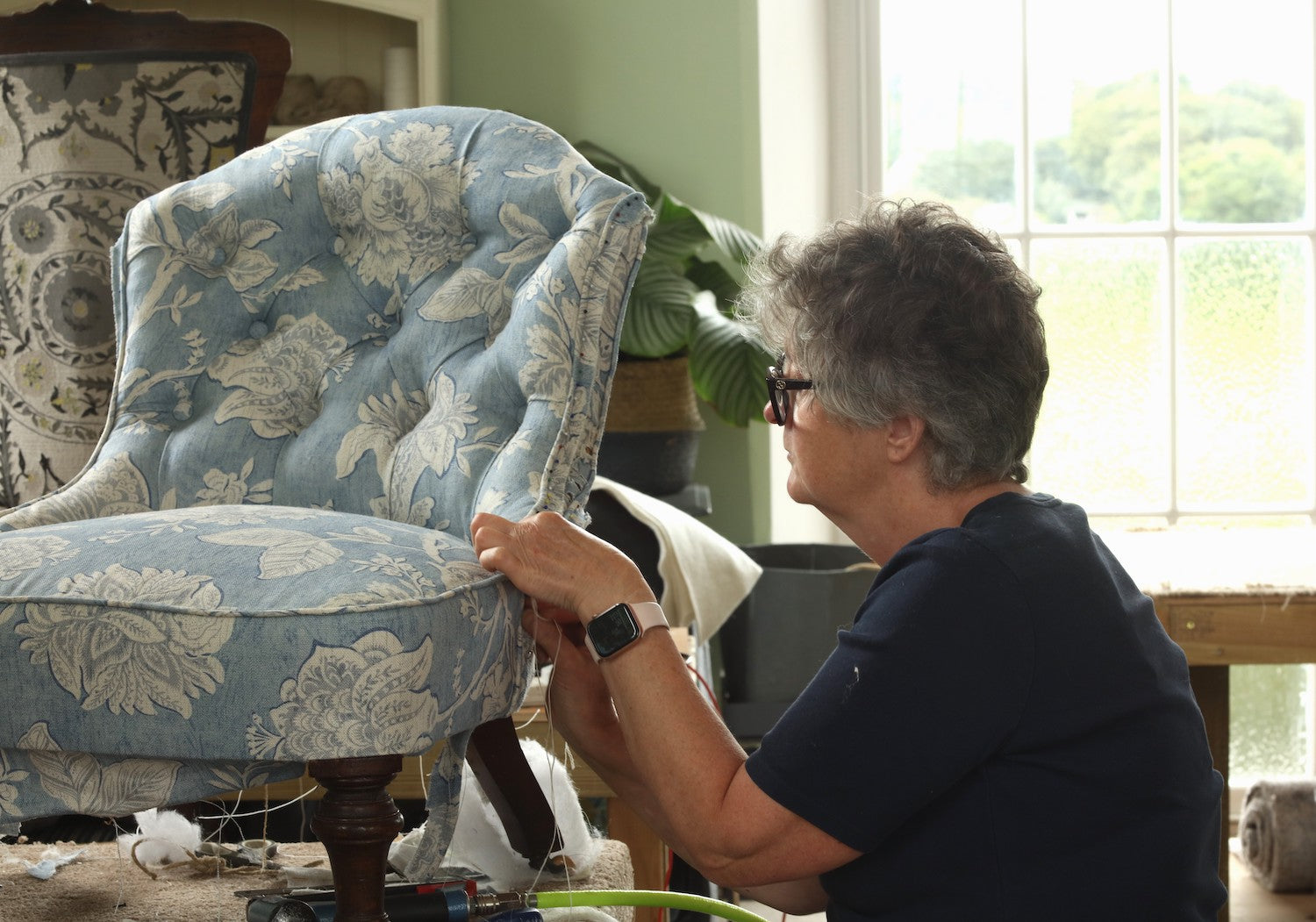 "Begin at the beginning then go on til you come to the end then stop." Lewis Carol
Nestled in the Cornish countryside is a 17th century Chapel that we have renovated into our unique and creative workspace. Here you can submerse yourself in crafts and get inspired. Our space is full of calming shades of green and is sure to help you unwind, whilst you learn some new skills. Our resident dog, Toby, is on hand too. He is rubbish at upholstery but great with cuddles and stealing fabric.
We run five-day, one-day, evening classes and long-term professional upholstery courses. Our restoration courses cover traditional and modern upholstery as well as wood restoration and sewing. 
If you have a particular piece of furniture you want to restore, looking for a craft holiday or a new career in restoration, then look no further. Courses are based on you bringing your own piece of furniture along to work on and all levels are welcome. Whether you're a total novice or an experienced crafter, you will learn lots of new skills. You will also go home with something to be treasured and admired for years to come.
Are you wanting a new career or a deeper knowledge of this artisan craft? Take a look at our Fast Track course or contact us to discuss your goals and objectives. 
Furniture restoration is a great way to calm the mind and nurture your creative side. Course sizes are kept at 5 and are always filled with friendly like-minded people. You will return home with new skills, passion for restoration, a lovely piece of furniture and some new friends.
Courses are run by Polly, so you will be in very good hands. Polly comes from a family background in antiques and design and has been working as an upholsterer for over 15 years. Having taught hobbyists and professional training courses for over 10 years. She started teaching at The Good Life Centre in London.  www.thegoodlifecentre.co.uk before setting up her own studio in Cornwall.
Nurture your soul and ignite your creativity in our beautiful studio. You will switch off from the modern World and immerse yourself in an old artisan craft. We're a low-tech studio, so no wireless internet but you will find a friendly and supportive environment.
Tea, coffee, lunch and afternoon tea are all provided. Lunch is made by our lovely assistant, Amy. You can expect freshly made bread, home-made soups and salads and lots of healthy delicious food.
Our studio is in a beautiful, renovated, old chapel, in Cornwall. It's a special space and it is well located for getting around Cornwall. The lizard peninsular, Falmouth and Porthleven are all just a short drive away.
Our five day and one day courses are run several times a month. Five-day restoration courses are based on you bringing your own upholstery project and run from Monday to Friday, 10.00 to 17.00. Weekend upholstery courses are held over both Saturday and Sunday from 10.00 – 17.00. Prices start at £100 for 1 days tuition and £385 for the 5 day courses.
Not included are any materials used on the five-day upholstery courses. These are costed by weight or by meter. Amounts used are noted and paid for at the end of the course.
Ordering fabric prior to the course is advised. Contact us to discuss how much fabric you need for your project. There are plenty of samples and books at the studio and we can help with ordering when you get here if needs be.
The dates of our upcoming courses are on the Timetable page, and you can book online. Alternatively, you can contact us for dates and booking.
We look forward to welcoming you.
If you are unsure if your project is suitable then please contact us to discuss.